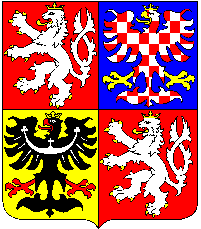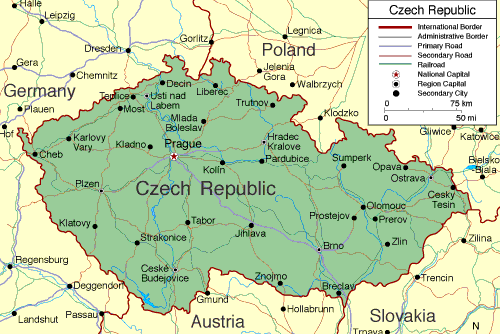 Country profile
Name: Czech Republic
Conventional short form: Czech
Nationality: Czech(s)
Time Zone: GMT +1
Government type: parliamentary democracy
Head of State: President
Language: Czech
Religion: Roman Catholic 26.8%, Protestant 2.1%, other 3.3%, unspecified 8.8%, unaffiliated 59%
Official Currency: Czech crown (koruna)
Administrative divisions: 13 regions and 1 capital city; Jihocesky Kraj, Jihomoravsky Kraj, Karlovarsky Kraj, Kralovehradecky Kraj, Liberecky Kraj, Moravskoslezsky Kraj, Olomoucky Kraj, Pardubicky Kraj, Plzensky Kraj, Praha, Stredocesky Kraj, Ustecky Kraj, Vysocina, Zlinsky Kraj
The Czech Republic is situated in central Europe, sharing frontiers with Germany, Poland, the Slovak Republic and Austria. Only about one-quarter of the size of the British Isles, the republic is hilly and picturesque, with historic castles, romantic valleys and lakes, as well as excellent facilities to "take the waters" at one of the famous spas or to ski and hike in the mountains. Among the most beautiful areas are the river valleys of the Vltava (Moldau) and Labe (Elbe), the hilly landscape and rocky mountains. Bohemia, to the west, is one of two main regions. Besides Prague, the Czech capital, tourists are drawn to the spa towns of Karlovy Vary and Marianske Lazne, and to the very beautiful region of south Bohemia. The Elbe flows through eastern Bohemia from the Krkonocse/Giant mountains, one of the most popular skiing regions. The eastern part, the rich agricultural area of Moravia offers a variety of wooded highlands, vineyards, folk art and castles. There are many historic towns such as Olomouc, Kromeiz and Telc. Brno is Moravia's administrative and cultural center.
Before the arrival of the Slavs in the 6th century this area was inhabited by Germanic and Celtic tribes. A lot of rulers and kings ruled the people in Bohemia from the 7th to 19th centuries. Let us notice two of them: emperor Charles IV and emperor Rudolf II. During the reign of Charles IV (1346-78), as king of Bohemia and Holy Roman emperor, Prague grew into one of the largest cities in Europe. It acquired its fine Gothic face and landmarks including Charles University, Charles Bridge and St. Vitus Cathedral. In the second half of the 16th century the city experienced great prosperity under emperor Rudolf II and was made the seat of the Habsburg Empire. Rudolf II established great collections of art and renowned artists and scholars were invited to his court.
At the beginning of the 20th century Bohemia was a part of Austrian Empire. After World War I in 1918 Czechoslovakia declared its independence. The new republic had three parts: Bohemia, Moravia and Slovakia. The popular Tomas Garigue Masaryk became the first president. In October 1938 the Nazis occupied the Sudetenland, with the acquiescence of Britain and France, after the infamous Munich Agreement. In March 1939 Germany occupied Bohemia and Moravia. Slovakia proclaimed independence as a Nazi puppet state. After World War II in 1945 Czechoslovakia was reestablished as an independent state. In the 1946 elections, the Communists became the largest party with 36% of the popular vote and formed coalition government. In 1948 the Communist staged coup d'etat and Czechoslovakia became a communist country. In the 1960s Czechoslovakia enjoyed a gradual liberalization under the reformist general secretary of the Czechoslovak Communist Party, Alexander Dubcek. But this short period was crushed by a Soviet invasion in August 1968. In 1969 the reformist Dubcek was replaced by the orthodox Gustav Husak and Czechoslovakia stayed a communist country under the Soviet influence. The communist government resignated in November 1989 after a week of demonstrations known as the Velvet Revolution. The popular Vaclav Havel was elected president of the republic. At the end of 1992 Czechoslovakia split into Czech Republic (Bohemia and Moravia) and Slovak Republic (Slovakia). This peaceful splitting is called the Velvet Divorce. Twelve years later, on May 1, 2004 Czech Republic became a part of the European Union.
Geography
Area:
The Czech Republic is situated approximately in the geographical center of Europe and has an area of 78,866 km2. It is a landlocked country 326 km from the Baltic and 322 km from the Adriatic. It shares borders with Germany (810 km), Poland (762 km), Austria (466 km) and Slovakia (265 km).
Topography:
The highest point of elevation is the peak of Mt. Snezka (1,602 m above sea level) and the lowest point of elevation is near Hoensko where the River Labe leaves Czech territory (117 m above sea level).
The useful information
Passports/ Visas
Nationals of all Western European countries can visit the Czech Republic for up to 90 days, without a visa; citizens of the UK and Irish Republic can stay for up to 180 days; and US and Canadian passport holders can stay for 30 days. Nationals of Australia, New Zealand, South Africa and many other countries must obtain a visa, which is good for a stay of between 30 and 90 days, depending on your nationality.
Customs
Customs allowance when taking goods into the Czech Republic are 2L of wine, 1L of spirits, 200 cigarettes and up to 6000 CZK worth of gifts. When you are shopping at the airport, duty has to be paid on goods exceeding 30.000CZK in value. Duty on consumer goods is 19%. It is forbidden to export genuine antiques. If you have more then 350.000 CZK in any currency, you must declare it.
Health
Food & drink
Mains water is normally chlorinated and, whilst relatively safe, may cause mild abdominal upsets. Bottled water is available and advised. Milk is pasteurized and dairy products are safe for consumption. Local meat, poultry, seafood, fruit and vegetables are generally considered safe to eat.
Other risks
Tick-borne encephalitis exists in rural forested areas during summer months. Immunization against hepatitis A and B is sometimes advised.
Rabies is present. For those at high risk, vaccination before arrival should be considered. If you are bitten, seek medical advice without delay.
Currency
Foreign currency (including travelers cheques) can be exchanged at all bank branches and at authorized exchange offices, main hotels and road border crossings.
Major cards such as American Express, Diners Club, Discover, Visa, MasterCard and others may be used to exchange currency and are also accepted in some hotels, restaurants and shops. Check with your credit or debit card company for details of merchant acceptability and other services which may be available.
Travelers cheques are widely accepted. To avoid additional exchange rate charges, travelers are advised to take travelers cheques in US Dollars, Euros or Pounds Sterling.
Generally Mon-Fri 08.00-18.00. Some banks close early on Fridays.
Transport
Czech Airlines operates an extensive domestic service. There are regular domestic flights from Prague to Ostrava, Brno and Karlovy Vary.
Navigable waterways can be found in the country and the main river ports are located at Prague, Usti nad Labem and Decin.
The rail network is operated by Czech Railways. There are several daily express trains between Prague and main cities and resorts. Reservations should be made in advance on major routes. Fares are low, but supplements are payable for travel by express trains.
Traffic drives on the right. Speed limits are 31mph (50kph) in built-up areas, 55mph (90kph) outside built-up areas and 80mph (130kph) on motorways. Motorways run from Prague to Plzen, Podebrady to Bratislava (Slovak Republic) via Brno. Users of the Czech motorways have to buy a vignette (season ticket), which costs approximately Kc800 for each year. A 10-day vignette is now available at approximately Kc100. Bus: The extensive bus network mostly covers areas not accessible by rail and is efficient and comfortable. Buses are mostly run by the State Bus Company; see online for timetables. Car hire: Self-drive cars may be hired through Avis, Hertz and other companies. Seat belts are compulsory and drinking is absolutely prohibited. Many petrol stations open 24 hours. There is a road emergency service available by calling 154. Documentation: A valid national driving license. If this has no photocard, an International Driving Permit is also required.
Public transport is excellent. There is a metro service in Prague that runs from 05.00-00.00. Three flat fares are charged. There are also tram and bus services (for which tickets must be purchased in advance from tobacconist shops, newsagents, metro stations, information centers or travel agents). Night trams and buses run from 0000-0430 in Prague. Buses, trolleybuses and trams also exist in Brno, Ostrava, Plzen and several other towns. Most services run from 0430-0000. All the cities operate flat-fare systems and tourist passes can be purchased in advance that are valid for a number of journeys. Tickets should be punched in the appropriate machine on entering the tram or bus. A separate ticket is required when changing routes. There is a fine for fare evasion. Blue badges on tram and bus stops indicate an all-night service. Taxis are available in all the main towns and are metered, higher fares are charged at night.
Climate
The Czech climate is mixed. Continental influences are marked by large fluctuations in both temperature and precipitation, while moderating oceanic influences diminish from west to east. In general, temperatures decrease with increasing altitude but are relatively uniform across the country at lower elevations. The mean annual temperature at Cheb in the extreme west is 7 °C and rises to only 9 °C at Brno in southern Moravia. High temperatures can reach 33 °C in Prague during July, and low temperatures may drop to -17 °C in Cheb during February. The growing season is about 200 days in the south but less than half that in the mountains.
Annual precipitation ranges from 18 inches (450 millimetres) in the central Bohemian basins to more than 60 inches on windward slopes of the Krkonose Mountains of the north. Maximum precipitation falls during July, while the minimum occurs in February. There are no recognizable climatic zones but rather a succession of small and varied districts; climate thus follows the topography in contributing to the diversity of the natural environment.
The weather is best May-September, when days are warm and the nights are cool (take a sweater). Spring is preferable to summer for avoiding crowds, but summer is preferable to spring for avoiding rain (take along an umbrella). October, usually a little chilly and wet, is an excellent time to go if you're primarily interested in museums, inside activities or just driving around. Winters are very cold, damp, snowy, often foggy and (because of the country's reliance on coal for heat) polluted.
Electricity
220V, 50 Hz AC
Tipping
A 5 to 10 per cent tip is usual.
Shopping
Souvenirs include Bohemian glass and crystal, pottery, porcelain, wooden folk carvings, hand-embroidered clothing, and food items. There are a number of excellent shops specializing in glass and crystal, while various associations of regional artists and craftspeople run their own retail outlets (pay in local currency). Other special purchases include pottery (particularly from Kolovec and Straznice); china ornaments and geyserstone carvings from Karlovy Vary; delicate lace and needle embroidery from many Moravian towns; and blood-red garnets and semi-precious stones from Bohemia.
Mon-Fri 08.00-18.00, Sat 08.00-12.00. Supermarkets and food shops in large towns and cities are open from 06.00. The number of shops also open on Sunday is constantly increasing.