Ski resort Czech, Lipno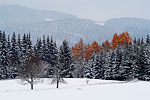 Czech Republic, South Bohemia, in region Sumava at 20km from Austria. Ski resort Lipno is one of the most modern ski areas in Czech Republic, Ski resort Lipno provides infinite comfort to your whole family. We are proud to present to you our 3 new 4 persons chairlifts and 3 magic carpets for the children. Lipno is not so much a place for those who need the adrenaline boost on the slopes but perfect for beginners, seniors and kids to enjoy themselves in their own taste. We are proud to have our Foxpark Lipanek at the disposal for all children to learn how to ski with a lasting smile on their face. Foxpark Lipanek is the best skiing playground in the Czech Republic and it is ideal for kids from 3 years.
General information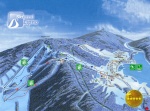 3 new 4 persons chairlifts, 2 ski-tows, also for kids and beginners we have 3 magic carpets and 2 children lifts;
total capacity is 11.400 people per hour;
there are 6 slopes (blue and red) the slopes all together are 7.5km all equip with snow canons;
a snow park where beginning skiers and snowboards can attempt a jump;
new 800 m long snow-cross tracks for children and beginners;
night skiing on the Lipno Lake slope (1300 m);
cross-country areal with (40km) tracks;
For families with children
Foxpark Lipanek – best Czech skiing playground;
kids ski pass prices valid until the age of 18 years;
discount for families, teenagers, seniors, incapacitated, for schools and groups;
Facilities next to the ski lift
free parking for 650 cars and 20 busses;
ski rent, ski service, ski deposit, test center and ski school;
accommodation, sport shop, supermarket, a.t.m. and heated playroom;
Apres Ski
different bars end restaurants;
bambini party in Foxpark Lipanek with kids music and funny games;
mushering and bobsleigh track;
beautiful nature with amazing walks with snow shoes;
ice-skating on the Lipo Lake – the longest ice skating track in the Czech Republic;
indoor sports hall: tennis, squash, badminton, bowling, also a swimming pool (16m) and wellness and spa, last but not least massage;
day and night party (live music);
Cross country tracks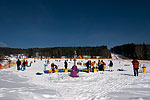 Ski areal Lipno offers beautiful cross country possibilities. In between Lipno Nad Vltavou and Frymburk there is a 40km track which is always covered in snow and maintained for the cross country - skiers. The local specialty is the ice - skating on the frozen Lipno Lake which is ideal for a delicious afternoon trip. There are different routes for those cross country - skiers looking for challenge and those who just want to enjoy a walk. Next to the football field up the hill in Lipno Nad Vltavou there is another free parking with a capacity of around 100 cars.
Downhill slopes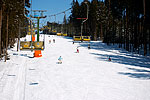 In Skiresort Lipno you will find 7,5 km slopes all covered with modern snowmaking system. The level of slopes varies from blue to red and they have gentle tide, which is ideal for children and beginners. Our slopes are wide up to 60 m and offer best conditions for learning carving and snowboarding. On the Jezerni slope (1300 m) with illumination you can enjoy romantic night skiing.