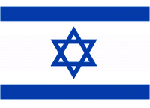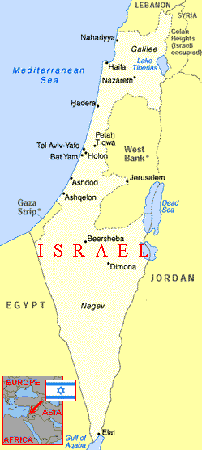 Country profile
Name: State of Israel
Conventional short form: Israel
Nationality: Jews
Time Zone: UTC +2 (DST +3)
Government: Parliamentary Democracy
Head of Government: Prime Minister
Legislature: The Knesset is Israel's unicameral parliament, whose 120 members are elected to 4-year terms through party-list proportional representation
Language: official: Hebrew, Arabic; used by Russian, French, German, Polish, Yiddish
Religion: Jewish 80%, Muslim 14%, Christian 2%, other 3%
Official Currency: New Israeli Sheqel (code:ILS)
Administrative divisions: Central, Haifa, Jerusalem, Northern, Southern, Tel Aviv
Israel is a small country, about 290 miles (470 km.) long and 85 miles (135 km.) across, making travel from one place to another fairly easy. To the north, is the Galilee region and to the south, the rugged Negev Desert, leading down to the southern apex near the Red Sea. In between lies the hilly country and the nation's capital, Jerusalem, which is one of the highest points in the country. On its western border, the Mediterranean Sea spans from the north of Israel to northern Egypt. To the east, lies the Sea of Galilee in the north, the Dead Sea, and Jordan.
The first historical record of the word "Israel" comes from an Egyptian stele documenting military campaigns in Canaan. Although this stele which referred to a people (the determinative for 'country' was absent) is dated to approximately 1211 BCE, Jewish tradition holds that the Land of Israel has been a Jewish Holy Land and Promised land for 3,000 years. The land of Israel holds a special place in Jewish religious obligations, encompassing Judaism's most important sites including the remains of the First and Second Temples of the Jewish King, Solomon. Connected with these two versions of the temple are religiously significant rites which stand as the origin for many aspects of modern Judaism. Starting around the 11th century BCE the first of a series of Jewish kingdoms and states established intermittent rule over the region that lasted more than a millennium.
Following World War II, the British withdrew from their mandate of Palestine, and the UN partitioned the area into Arab and Jewish states, an arrangement rejected by the Arabs. Subsequently, Israel's Arab neighbors invaded the nation with the hope of regaining previously held territory. The Israelis defeated the Arabs in a series of wars without ending the deep tensions between the two sides. On 25 April 1982, Israel withdrew from the Sinai pursuant to the 1979 Israel-Egypt Peace Treaty. Outstanding territorial and other disputes with Jordan were resolved in the 26 October 1994 Israel-Jordan Treaty of Peace. In addition, on 25 May 2000, Israel withdrew unilaterally from southern Lebanon, which it had occupied since 1982. In keeping with the framework established at the Madrid Conference in October 1991, bilateral negotiations were conducted between Israel and Palestinian representatives (from the Israeli-occupied West Bank) and Syria, to achieve a permanent settlement. But progress toward a permanent status agreement has been undermined by the outbreak of Palestinian-Israeli violence since September 2000
Geography
Area:
The sovereign territory of Israel - excluding all territories captured by Israel in 1967 - is 20,770 km2 or 8,019 miІ in area. (1% is water). The total area under Israeli law - including East Jerusalem and the Golan Heights - is 22,145 km2 or 8,550 miІ; with a little less than one per cent being water. It should be noted however that UN resolution 497 states the application of Israeli law to the Golan Heights is "null and void and without international legal effect". The total area under Israeli control - including the military-controlled and Palestinian-governed territory of the West Bank - is 28,023 km2 or 10,820 miІ (~1% water). The sovereign territory of Israel - excluding all territories captured by Israel in 1967 - is 20,770 km2 or 8,019 miІ in area. (1% is water). The total area under Israeli law - including East Jerusalem and the Golan Heights - is 22,145 km2 or 8,550 miІ; with a little less than one per cent being water. It should be noted however that UN resolution 497 states the application of Israeli law to the Golan Heights is "null and void and without international legal effect". The total area under Israeli control - including the military-controlled and Palestinian-governed territory of the West Bank - is 28,023 km2 or 10,820 miІ (~1% water).
Topography:
The country is divided into four regions: the coastal plain, the central hills, the Jordan Rift Valley, and the Negev Desert. The Mediterranean coastal plain stretches from the Lebanese border in the north to Gaza in the south, interrupted only by Cape Carmel at Haifa Bay. It is about forty kilometers wide at Gaza and narrows toward the north to about five kilometers at the Lebanese border. The region is fertile and humid (historically malarial) and is known for its citrus and viniculture. The plain is traversed by several short streams, of which only two, the Yarqon and Qishon, have permanent water flows.
East of the coastal plain lies the central highland region. In the north of this region lie the mountains and hills of Upper Galilee and Lower Galilee; farther to the south are the Samarian Hills with numerous small, fertile valleys; and south of Jerusalem are the mainly barren hills of Judea. The central highlands average 610 meters in height and reach their highest elevation at Mount Meron, at 1,208 meters, in Galilee near Zefat (Safad). Several valleys cut across the highlands roughly from east to west; the largest is the Yizreel or Jezreel Valley (also known as the Plain of Esdraelon), which stretches forty-eight kilometers from Haifa southeast to the valley of the Jordan River, and is nineteen kilometers across at its widest point.
East of the central highlands lies the Jordan Rift Valley, which is a small part of the 6,500-kilometer-long Syrian-East African Rift. In Israel the Rift Valley is dominated by the Jordan River, Lake Tiberias (known also as the Sea of Galilee and to Israelis as Lake Kinneret), and the Dead Sea. The Jordan, Israel's largest river (322 kilometers long), originates in the Dan, Baniyas, and Hasbani rivers near Mount Hermon in the Anti-Lebanon Mountains and flows south through the drained Hula Basin into the freshwater Lake Tiberias. Lake Tiberias is 165 square kilometers in size and, depending on the season and rainfall, is at about 213 meters below sea level. With a capacity estimated at 3 billion cubic meters, it serves as the principal reservoir of the National Water Carrier (also known as the Kinneret-Negev Conduit). The Jordan River continues its course from the southern end of Lake Tiberias (forming the boundary between the West Bank and Jordan) to its terminus in the highly saline Dead Sea. The Dead Sea is 1,020 square kilometers in size and, at 399 meters below sea level, is the lowest point in the world. South of the Dead Sea, the Rift Valley continues in the Nahal HaArava (Wadi al Arabah in Arabic), which has no permanent water flow, for 170 kilometers to the Gulf of Aqaba.
The Negev Desert comprises approximately 12,000 square kilometers, more than half of Israel's total land area. Geographically it is an extension of the Sinai Desert, forming a rough triangle with its base in the north near Beersheba (also seen as Beersheva), the Dead Sea, and the southern Judean Hills, and it has its apex in the southern tip of the country at Elat. Topographically, it parallels the other regions of the country, with lowlands in the west, hills in the central portion, and the Nahal HaArava as its eastern border.
The useful information
Passports/ Visas
Leave a copy of your passport and your itinerary with a contact in your country. Every visitor to Israel must hold a valid passport for at least six months; stateless persons require a valid travel document with a return visa to the country of issue. Visitors may remain in Israel for up to three months from the date of arrival, subject to the terms of the visa issued. Visitors who intend to work in Israel must apply to the Ministry of the Interior for a special visa (B/1)
Citizens of the following countries will be issued visitors' visas (or transit visas (see below) free of charge at port of entry in Israel:
Europe: Austria, Belgium, Cyprus, Denmark, Finland, France, Germany, Gibraltar, Great Britain, Greece, Hungary, Iceland, Ireland, Italy, Liechtenstein, Luxembourg, Malta, Monaco, the Netherlands, Norway, Portugal, San Marino, Slovenia, Spain, Sweden, Switzerland
Asia & Oceania: Australia, Fiji Islands, Japan, Hong Kong, New Zealand, Philippines, South Korea
Africa: Central African Republic, Losoto, Malawi, Mauritius, South Africa, Swaziland
The Americas: Argentina, Barbados, Bolivia, Brazil, Canada, Chile, Colombia, Costa Rica, El Salvador, Ecuador, Guatemala, Haiti, Jamaica, Mexico, Panama, Paraguay, St. Kitts & Nevis, Surinam, Trinidad & Tobago, The Bahamas, The Dominican Republic, Uruguay, U.S.A.
Insurance
Medical insurance Health care in Israel is not free and any form of medical treatment can be expensive. Check that you have full insurance cover for emergency treatment, hospitalization and medical evacuation to your country. If you cannot obtain cover for a specific illness, ensure that extra funds can be sent to you easily. Hospitals will insist on payment and may take legal action to delay departure until bills are met.
Travel insurance Travel insurance should cover unexpected expenses such as missed, canceled or delayed flights, lost luggage and stolen cash or credit cards. Keep all boarding passes, ticket copies and receipts for expenses paid during your trip if it later becomes necessary to file a claim.
Transportation
Most major cities are linked by freeways. Road signs are posted in Hebrew, English, and Arabic, so if you rent a car, finding your direction and following rules of the road are fairly simple. To rent a car, you must be over 21 and be prepared to drive on the right side of the road and be aware that some city drivers can be aggressive. Getting around by public transport in Israel is inexpensive, frequent, and efficient. The national bus line (Egged) provies extensive service throughout the country. Trains run between Jerusalem, Haifa, and Tel Aviv. The shared taxi services (Sherut) go to most places in Israel but are about 10-20% more expensive than buses.
National peculiarity
The Jewish religious day is Saturday - Shabbat - and begins at nightfall on Friday until nightfall on Saturday. Most public services and shops close early on Friday as a result. Muslim and Christian holidays are also observed by the respective populations. Thus, depending on the district, the day of rest falls on Friday, Saturday or Sunday. Most of restaurants, pubs, night clubs, disco are opened during Shabbat.
Cuisine
Because the country is so cosmopolitan, you may find almost any type of cuisine available in Israel. More typically, you will find fresh fruits and vegetables and snacks like felafel. Some restaurants observe Kosher cooking; some foods like shellfish and pork are forbidden and meat is not mixed with dairy.
Medications
Bring a copy of your prescriptions along with you. It is also a good idea to bring an extra pair of prescription eyeglasses with you.
Water for drinking
Although water in Israel is of good quality and suitable for drinking, you may not be used to the high mineral content. Bottled natural spring water is available everywhere - expensive at your hotel, more reasonable at the supermarkets.
Currency
Israeli businesses readily accept most foreign currencies, particularly American dollars. Businesses also accept major international credit cards. To ensure that services are exempt from value-added tax, use foreign currency travelers checks or credit cards to pay most travel services like tours and accommodations.
Banks are open from 8:30 am to 12:30 pm Sunday through Thursday; in addition on Sunday, Tuesday, and Thursday, they are open from 4:00 pm to 6:00 pm. On Fridays, banks are open from 8:00 am to 12:00 noon. Banks are closed on Saturdays. Many banks have ATM machines that are available 24 hours a day, seven days a week.
Gifts
Make your purchases toward the end of the visit after you have compared prices. Do not forget to save the VAT form so that you can get your refund at the airport. For good bargains and different kinds of gift items, try off the beaten track workshops and outlets.
Clothing
Bring comfortable shoes, a sweater, clothes you can layer and an all-weather coat. In the heat of summer, bring sunscreen and a hat. Some religious sites do not allow shorts or sleeveless shirts. If you are traveling in the winter, do bring a winter jacket, rain gear and sweater. An umbrella is also recommended in the winter. Modest clothing is required for most holy sites. For men - long pants and casual shirts. Women - skirts and blouses (with sleeves). Hats are a good idea year round.
Security
You and your bags may often be checked by security guards at public buildings such as shopping malls. Be cooperative -- it is for your safety too. Do not leave your bag unattended - anywhere.
Climate
The climate of the coastal areas can be very different from that of the mountainous areas, particularly during the winter months. The high mountains in the north, like Mount Hermon in the Golan Heights, can get cold, wet and often snowy and even Jerusalem experiences snow spells every couple of years. The coastal regions, where Tel Aviv and Haifa are located, have a typical Mediterranean climate with cool, rainy winters and hot, dry summers.
Electrical power
Most applicances operate on 220 volts AC, 50 Hertz. Most plugs are three cylindrical prongs. Be sure to bring an electrical adapter if necessary.
Shopping
Most shops are open Sunday through Thursday from 9:00 am to 7:00 pm. Many Jewish shops close on Friday afternoon before the Sabbath and on Saturday during Shabbot. Muslim stores close on Friday, but reopen on Saturday. Shops owned by Christians typically close on Sunday. Some shops may accept foreign currency. Shopping districts range from modern malls to local markets, where bargaining with merchants may yield attractive prices. You will find a variety of merchandise. Israel is known for its fine diamond cutting trade and leather goods.