Czech Rest in South Bohemia. Shumava National Park
Club Canada Rest in South Bohemia Shumava National Park
Rest in South Bohemia. Shumava National Park. Lipno Lake and surroundings
Lipno is the largest lake in the Czech Republic and it is situated in the heart of charming Shumava countryside in South Bohemia. This favorite holiday destination is unique due to its beautiful countryside, historical sights, hundreds of kilometers of cycling paths and it is also a paradise for water sports such as windsurfing, yachting, canoeing or rafting down the river Vltava. The country is side and the possibilities for sport activities, cultural events and close proximity to historical sites (Cheshski Krumlov - UNESCO site, Rozmberk Castle, Hluboka Castle) makes Lipno special. Everything is within easy reach and yet one is surrounded by pristine nature. Lipno in South Bohemia is one of the most popular holiday destinations for Czechs as well as foreign visitors.
The Lipno area is a paradise for water sports. The Lipno Lake is the largest water area in the Czech Republic available for yachting, windsurfing, kite boarding; one can hire an electric boat or a pedal boat. You can enjoy rafting or canoeing on the River Vltava. Horse riding is also available.
There are dozens of kilometers of cycle paths around Lipno with various surfaces ranging from tarmac to forest roads with various levels of camber and difficulty. Most cycle paths are available for in-line skating. Nordic walking - walking with special walking sticks - has recently become very popular and can be enjoyed on footpaths. If you like fishing you will enjoy plenty of it at Lipno - especially pike, pikeperch and catfish are among the great catches. An indoor swimming pool open all-year-round is right in the centre of Lipno nad Vltavou. In winter you can ski in the ski resort Lipno Kramolim which is covered in artificial snow or go to the nearby ski resort Hochficht in Austria. Around Lipno is a vast network of maintained cross-country tracks interconnected with resorts in Austria and Germany.
Cheski Krumlov is only 30 km away from Lipno. Its centre is a UNESCO heritage site. The fairy tale castle in Hluboka nad Vltavou is 65 km away from Lipno. The Rozmberk Castle above the River Vltava is only 16 km away in Rozmberk nad Vltavou. A famous monastery with a large library and a post museum is in Vyshi Brod. Near Frymburk is the castle ruin of Vitkuv Kamen which has a lookout and in the woods on the right bank of the Lipno Lake is the man made Schwarzenberg Channel for timber floating which was built in 18th century. In the summer many regular events take place in the region (LIPNO OPEN AIR 2008, Frymburk Festival, Marketa's Fair in Hormi Plana, Cheski Krumlov Festival and others). You can see how timber was floated in the Schwarzenberg Channel, enjoy a ride on a historical steam engine, visit a museum or enjoy a theatre play at the revolving open-air auditorium in the gardens of Cheski Krumlov Castle. We will be happy to advise you on where to go and how to get there.
You can spend a nice holiday in Lipno in any season - it is just up to you whether you prefer the quiet time in spring or autumn, if you want to sunbathe and swim in Lake Lipno or ski down the snowy Shumava slopes. The world renowned castle in Cheski Krumlov or the fairy-tale like castle in Hluboka are very close to Lipno.
Residence Club Canada is situated in the midst of the most beautiful and the most interesting part of the Czech Republic for tourists. Beautiful countryside, chateaus, castle ruins, historical towns, the River Vltava and the Lipno Lake - these are just some of the many attractions to be enjoyed in the surrounding area of the Club. Accommodation is in new and modern apartments with views of the Lipno Lake and the Shumava mountains. Fully equipped apartments for 2 to 4 people are available. Wireless Wi-Fi internet is available for all accommodated guests in the whole residence. There is also a cafe with a sunny terrace where you can have breakfast, refreshments during the day and enjoy an evening with friends and good music. A wide selection of drinks and refreshments will undoubtedly satisfy even the most sophisticated gourmets. Ladies especially - and subsequently their partners - will appreciate the hairdressing salon and nail studio. The Reebok sport studio is equipped with modern technology and is completely safe and suitable for all ages.
Only here!!!
Extreme Park, where you can raise adrenaline by paintball playing, shooting from a bow, throwing of the knives and the tomahawk ...
Evening you can sit at a fire in the Indian camp with the real Indian wigwam, listen to the sound of Diamonds or the old legend.
"Poker Club" offer you to play. In our club are playing in the poker on the money among the people against each other, not against the casino.



Hotel "Club Canada" apartments


Most of the modern apartments have breathtaking views from the terrace or balcony which will make you feel truly relaxed.


Apartment for 2 persons


entrance hall, living room with a kitchenette (18m2), bathroom with a shower, toilet. View of the park. Equipment: kitchenette, two-plate cooker, extractor fan, fridge, microwave, electric kettle, dishes for 2 people; table and 2 chairs, double bed, TV cupboard with a DVD player and LCD TV, 2 bedside tables.


Apartment for 4 persons


(2 adults + 2 children/3 adults) entrance hall, living room with a kitchenette, separate bedroom, bathroom with a shower, toilet, balcony/front garden/terrace. Apartment area - 40m2, terrace - 30m2.
Equipment: living room with a kitchenette, table and 4 chairs, sofa bed, coffee table, DVD player and LCD TV, a double bed and 2 bedside tables in the bedroom.
Basic equipment in the kitchen: dishwasher, two-plate cooker, extractor fan, fridge, microwave, electric kettle, dishes for 4 people.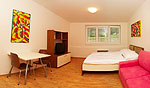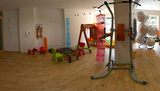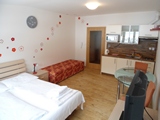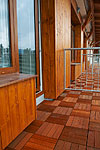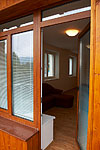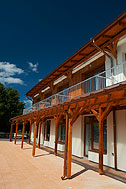 Lipno nad Vltavou and surroundings


Cheski Krumlov - the State Castle of Cheski Krumlov, with its architectural standard, cultural tradition, and the area, ranks among the most important historic sights in the central European region. Building development from the 14 th to 19 th centuries is well-preserved in the original ground-plan layout, material structure, interior installation and architectural detail. In addition to the castle, Cheski Krumlov offers other cultural valuables, such as a revolving auditorium, wax museum, and the Egon Schiele Art Centre. The town of Cheski Krumlov was included in the UNESCO's List of World Cultural and Natural Heritage.
Lipno nad Vltavou - in the summer months, this tourist centre offers the Aquaworld - a pool with a sauna. In the town, there is a rental and shop with sports equipment – bicycles, surfboards, pedal boats, rowing boats and other equipment for water sports. In the winter months, the ski resort Kramolin is opened. A car park is located at a cableway; day and night skiing, 5 downhill runs, 5 ski lifts, maintained cross-country ski tracks. Children can visit bobsleigh tracks at Lipno, and Foxpark - they will certainly not get bored there.
Rozmberk is located in the picturesque valley of Vltava, 10 km from the borderline with Austria, and 25 km from Cheski Krumlov. Inviolate countryside, beautiful passage of the course of river Vltava, and the historical background of the municipality are big attractions for tourists all over the world. Natural Park Dolni Jelovice, with remains of beech-fir natural forest, is located nearby.
Town of Vyshshi Brod is certainly worth visiting. You should not omit the Vyshshi Brod monastery, monastery library, which contains over 70,000 books, postal museum as well as the natural monuments Chertova stena and Luch.
The romantic castle Hluboka with haunted battlement and various turrets is located above the Vltava River, near Cheski Budijovice. There is a ZOO near the castle, which is especially attractive for children.
Cheski Budijovice - a large regional town with a unique square and Chernoi vezee, which offers a view of the town vicinity as well as the castle Hluboka, and controversial Temelin. This town offers satisfactory cultural, sports and art facilities. You can find here e.g. a multiplex cinema, swimming pool, South-Bohemia theatre and many interesting places.
Vltava - a wonderful river meandering through the Shumava forests. All along the river, there are camps and tens of restaurants and snack-bars. View of Cheski Krumlov from the river surface is a unique experience. The starting point for rafting is either Soumarski most in the upper part of the river, or Vyshshi Brod just below Lipno. You can order rafting on Vltava here (canoe and any other equipment can be rented here).
Schwarzenberg navigation canal - the biggest Shumava technical monument. It begins near a memorial, on the Rosenauer tank, which unfortunately has a broken dam today. It falls in the Grobe Muhl River in Austria and thus connects the river basins of Vltava and Danube. Originally, the canal was intended for block-wood floating from inaccessible places in Shumava to Vienna. Later, it was adapted and enabled to float up to 24-metre long beams. The length of the very canal is 44 km. It is supplied from 27 streams, 3 tanks and Pleshne jezero.
Plechne lake lies on the slope of Plechi mountain (1,378 m), 1,089 m above sea level, approx. 17 km southwards from Volary. It has a glacial origin. A monument to the memory of the writer Adalbert Stifter stands on the cliff above the lake. The sea of stones with huge granite boulders can be found near the northern edge of the lake.
Hiking and cycling - in spring, summer and autumn, the Lipno region offers the network of marked tourist paths in the protected landscape area of Shumava for lovers of hiking and beautiful countryside. Mushrooming and visits to natural monuments belong to the most popular activities. For cycling, the Lipno region offers very favorable conditions. Many marked cycling tracks and tourist paths will lead you to the best sights and monuments in the area.
Historical steam train - runs regularly in July and August from the Cerna v Poshumave stop, and then through Horni Planou, Novi Pec, Cherni Kriz to Novi Udoli. The train runs from Friday 5 July, each Saturday and Sunday, till Saturday 1 September. Departure from Stozec at 11.20 am; departure from Cherni v Poshumavi at 3.40 pm. Tickets can be bought from the train operators directly in the railway station in Horni Plani.
Lipno by boat - the whispering of dark forests, horses feeding on the crests of hills, camp fires at the shore. Discover the natural beauty of Shumava and Lipenske jezero from the deck. Cruisers depart from the dock Lipno nad Vltavou. During the short or long cruise, you can hear also many interesting facts about the lake and its distinctive features. In July and August, you can order evening cruises with music and dance.