United Republic of Tanzania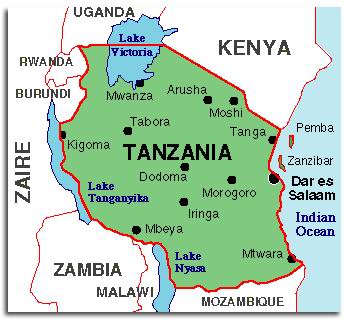 Country profile
Name: United Republic of Tanzania
Conventional short form: Tanzania
Time: 3hrs + GMT
Government's system: Parliamentarian
Head of Government: President
Language: English is widely spoken but a few words Swahili will be appreciated
Nationality: Tanzanian(s)
Data code: TZ
Official Currency: Tanzania Shilling
The United Republic of Tanzania is located in the Eastern African Continent between longitude 29" and 41". East: Latitude 1" and 12" South; Most Northerly point: Bukoba 1" South latitude; Most Southerly point: Mtalika 12" South Latitude; Most Westerly point Kigoma 29" East of Greenwich and Most Easterly point: Mtwara 41" East of Greenwich.
It borders on the Indian Ocean to the east, and has land borders with eight countries: anti-clockwise from the north, Kenya 796 km, Uganda 396 km, Rwanda 217 km, Burundi 451 km, the Democratic Republic of Congo (across Lake Tanganyika) 478 km, Zambia 338 km, Malawi 475 km and Mozambique 750 km, making a total of 3900 km. The country includes Zanzibar (consisting of the main island Unguja and Pemba; see below).
The area is approximately half the size of the western European countries put together and larger than twice the size of California.
Geography
Area:
Total area, including inland water and Zanzibar, is 945.234 sq. km. (365,000 sq. miles), of which 886,040 sq. km is land and 62,050 sq. km is water. The coastline is 1,424 km of which over 500 miles is of pure white sandy and unspoiled beaches.
Major Lakes:
Victoria 35,000 sq. km;
Tanganyika 13,000 sq. km;
Nyasa 6,000 sq. km;
Rukwa 3,000 sq. km;
Eyasi over 1000 sq. km and other over 1000 sq. km.
Arable land:
forest and woodland: 40%
crops: 1%
permanent pastures: 40%
and other 18%
Main towns:
Dar-es-Salaam, Dodoma, Mwanza, Tanga, Zanzibar Town, Zanzibar North, Zanzibar South, Mbeya, Arusha, Pemba north, Pemba South.
The useful information
International Flights - How to get to major cities in Tanzania
There are several airlines that fly from US, Europe, Middle East, Asia to Tanzania;
To Kilimanjaro International Airport - KLM, Kenya Airways and Ethiopian Airlines
To Dar es salaam Airport - British Airways, Swiss Air, Emirates, Gulf Air
KLM Royal Dutch Airlines (Northwest Airlines) fly from major cities in the United States via Amsterdam to Dar es Salaam and Kilimanjaro.
Whilst South African Airlines fly from the US via Johannesberg to DAR
Tanzania can also be reached via African Regional Cities, served by Air Tanzania, Air Zimbabwe, Egypt Air, Ethiopian Air Lines, Kenya Airways, South African Airways, Air Kenya and Nationwide Ailines
Passports/ Visas
Most visitors require visas with the exception of citizens of certain countries of the Commonwealth.
It is advisable to obtain them in advance from Embassies and High Commissions as several Airlines insist on then prior to departure.
Visa can also be obtained on arrival at Dar es Salaam and Kilimanjaro airports and at the Namanga Gate on the Tanzania/Kenya border - single entry visa cost Usd 50.
Requirements may change so you are advised to contact the appropriate diplomatic or consular authority before finalising your travel arrangements.
Although part of the union of Tanzania/Zanzibar remains independent, passports/ Tanzania visas are required even on a day's visit.
Insurance
You are strongly advised to have your own insurance to cover travel, baggage, personal injury or accident and medical attention.
Immunisation/ Health
Visitors from countries infected with cholera and yellow fever must produce international certificate of vaccination, this is particularly relevant for those travelling from neighbouring African countries.
The UK department fo health recommends vaccinations against hepatitis A, polio and typhoid. It is essential for visitors to take a corse of anti malaria tablets, commencing two weeks before travel.
Modern medical services are available in Dar es Salaam and other major centres. There are only a limited number of chemists in the country, so visitors are advices to bring their own medicines with them.
Car hire
Self-drive vehicles are available mainly for local running or tarmac use. 4 x 4 vehicles for safaris usually have to be hired with a driver.
Travel Light
Some Safaris/ Air charters limit baggage to a 10-15 kg maximum, so try to travel light.
Bring along a extra bag incase you have extra items to be stored whilst on a scheduled trip.
What to take
Don't forget the camera, camcorder and binoculars and take a torch for finding your way around your camp at night. Stock up with replacement batteries for all these goods. Take sunglasses, hat, sun lotion, lip balm and some insect repellent, it is better not to get stung even if you are taking anti-malaria tablets.
It is best to take any medicines required for the duration of the visit.
A spare pair of glasses or contact lenses is also a good idea.
Take plenty of film it is difficult to obtain outside centres.
While travellers cheques can be exchanged in cities and towns, banking facilities in remote areas are restricted, so take plenty of cash.
Clothes
It never gets really cold in Tanzania so lightweight clothing is the normal. Avoid brightly coloured cloths on safari, they may alarm the animals. Browns, beiges and khaki are preferred. Short-sleeve shirts /blouses and shorts are ideal, but pack a sweater, it can be chilly in the early morning and in the evening.
Wear a hat to avoid sun-stroke and don't forget a swimsuit. Shoes should be sensible - walking through the dust is not like strolling through Hide Park.
For climbing Kilimanjaro or Mt Meru take thermal underwear, a rain jacket, good socks and sturdy boots.
Shorts for women are acceptable - but not too short.
Women should carry a wrap to cover their legs in towns or villages as revealing cloths can cause offence, especially in Zanzibar and other Muslim areas.On the beach and within the confines of beach hotels, normal swimwear is acceptable but nudity certainly in not.
On Safari
Distances in Tanzania are vast, and travel by road can be tiring.
It is wise to spend more time in fewer parks. You will see more and wont return home exhausted.
Keep your distance from animals and be quiet to avoid distressing them.
Always follow the instructions of your ranger or guide.
Don't leave your vehicle in the parks except in designated places.
Keep to recognised tracks to avoid damaging vegetation.
Pictures/ Photography
It is prohibited to take pictures of State house, airports, military installations, police stations, government facilities, any border post, soldiers or police or any person.
Please always seek advice from your driver guide before taking pictures. While on safari, make sure you have some way of protecting your camera from dust. As most of the safari game viewing takes place in the early morning and late afternoon, 100 or 200 ASA film is probably best to use. A telephoto or zoom lens is recommended.
Tipping
Not normally obligatory but a tip for exceptional service - a maximum of 10% - will be appreciated. Tip $10-15 per day for drivers or tour guides but remember an excessive tip can make it difficult for the next customer.
Security
As in most major international cities, sensible security measures should be observed. Keep a close watch on purses, handbags, wallets and cameras. Avoid wearing expensive or flashy jewellery.
It is advisable to hire a taxi if you wish to move around at night and for your personal safety, avoid dark, deserted lanes and streets.
If you are with our driver guides then it is best to leave the cameras and other equipment with him when you are walking around.
Currency
The unit of currency is Tanzania Shilling, which is divided in to 100 cents.
Visitors can take in any amount of foreign currency, no currency declaration is required.
Import & Export of Tanzanian currency is illegal.
Most major currencies particularly US Dollars, Pounds, Euro's; cash or travellers cheques are accepted and are convertible at banks and bureau de change in the main towns and tourist areas.
Credit cards are not widely accepted and carry poor exchange rates.
Do NOT change money in the street how ever favourable the rates appear.
Gifts
Don't indiscriminately hand out pens, money and sweets like a wealthy Western Santa Claus - it just encourages begging. As anywhere, gifts should be given as a true expression of friendship, appreciation or thanks.
Climate
Tanzania is a land without winter.
Temperatures in Northern Tanzania range from 60-75 Degrees Fahrenheit during the day and 40-50 Degrees Fahrenheit at night from May to October.
From November to March, the day time temperature varies from 70-90 Degrees Fahrenheit and 60-75 Degrees Fahrenheit at Night.
Please note that weather is highly unpredictable.
Electricity
230v, but power failures, surges and troughs are common. Bring a universal adaptor and a torch (flashlight) or headlamp.
Shopping
The tourist areas and hotels self a wide range of souvenirs, jewellery and trinkets. Don't be afraid to haggle at roadside curio stalls.